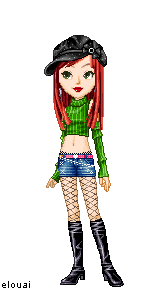 Jolene McAshner (b. c. 2006) is a part of the fanfiction "The Lily Potter Series" but does not become a major role in the fanfiction series until the fifth installment (Lily Potter and the Fight of My Life) She is in the same year as
Lawrence Diggory
and
Albus Potter
. She was sorted into Gryffindor house upon her arrival at Hogwarts School of Witchcraft and Wizardry. She is the keeper of the Gryffindor House Quidditch Team and, to James Potter's displeasure, she is the team captain.
Physical Appearance
Edit
Jolene is said to have "flaming" locks of auburn hair and emerald green eyes. Her skin is a shade between alabaster and ivory .
Ad blocker interference detected!
Wikia is a free-to-use site that makes money from advertising. We have a modified experience for viewers using ad blockers

Wikia is not accessible if you've made further modifications. Remove the custom ad blocker rule(s) and the page will load as expected.