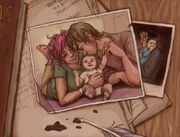 Teddy Remus Lupin (b. April 1998) is the only son of Nymphadora Lupin (neé Tonks) and Remus Lupin. He is a metamorphagus, as his mother was one. Teddy was caught kissing Victoire Weasley on platform 9 and 3/4, and is getting married to her in the fan fiction story, Albus Potter and the next generation, year 2.
Ad blocker interference detected!
Wikia is a free-to-use site that makes money from advertising. We have a modified experience for viewers using ad blockers

Wikia is not accessible if you've made further modifications. Remove the custom ad blocker rule(s) and the page will load as expected.