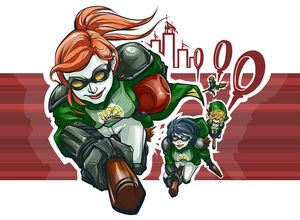 The Great Quidditch Accident Of 2005, happens on July 31st, 2005, which is on Harry Potter's birthday. It took place on the 434th quidditch world cup final, in which the game was Holyhead Harpies vs. Bulgaria. The accident was between Viktor Krum (seeker) and Ginny Potter (chaser) and was caused by Krum. The accident caused Potter to fall off of her broom, eight months pregnant. She suffered an eight day coma, and her son Albus, barely lived through the whole scheme, (he being the one she was pregnant with). The chapter that this accident takes place in in Harry Potter's after the end, is called Vanilla Twilight, and is in four parts.
Ad blocker interference detected!
Wikia is a free-to-use site that makes money from advertising. We have a modified experience for viewers using ad blockers

Wikia is not accessible if you've made further modifications. Remove the custom ad blocker rule(s) and the page will load as expected.